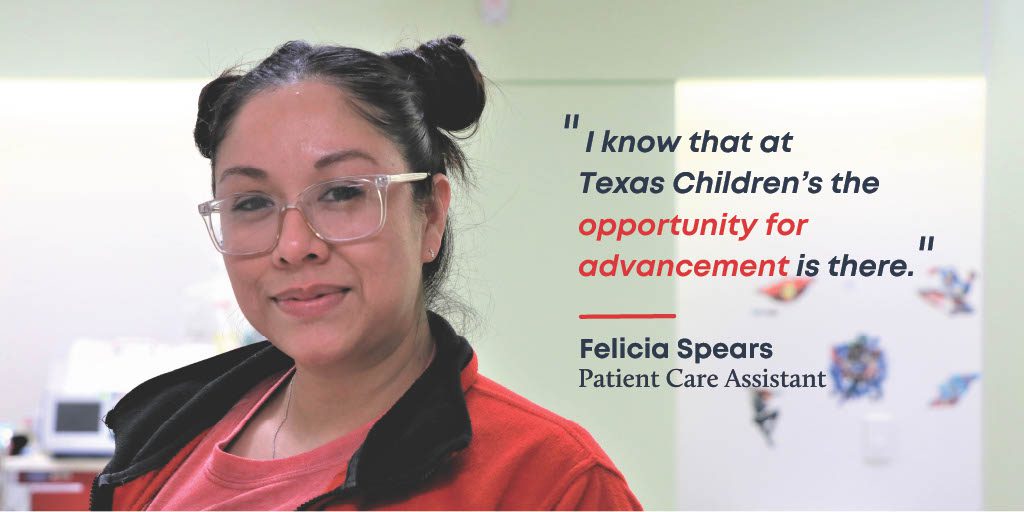 "I'm not sure I'll pursue nursing certification, but I know that at Texas Children's the opportunity for advancement is there and, in the Patient Care Assistant (PCA) role, I will never stop learning," says Felicia Spears, who was promoted to the PCA position within her first year as an employee at our hospital.
In a pediatric hospital like Texas Children's, one patient may interact with dozens of healthcare professionals throughout their stay, seeing PCAs the most consistently. Typically managing multiple patients' basic care needs and schedules, the PCA role requires a unique combination of qualities, experience, and compassion.
"A PCA must be a good communicator, invest in teamwork and have a strong work ethic," says Erica Ventura, Assistant Clinical Director of our West Campus PICU and Float Pool. For this reason, Texas Children's regularly identifies staff like Felicia and develops them internally for promotion to the PCA role.
No Candidate Left Behind
Felicia's calling is working with kids. As a youth, she enjoyed babysitting and sought out opportunities during high school working with children on the autism spectrum. She is certified as a registered behavioral technician (RBT).
"Texas Children's has always been my goal because it's a hospital specifically for children," Felicia states as she recalls her employment search in 2020. Though the pandemic presented unprecedented challenges to staffing for hospitals and jobseekers, Felicia did not give up on Texas Children's and we did not give up on Felicia.
Texas Children's prioritizes finding a place for every qualified candidate and employee and providing them with a roadmap for success. Thanks to this no candidate left behind approach, Texas Children's found a place for Felicia in our Float Pool as a Patient Sitter.
Starting as a Patient Sitter
Patient Sitters are assigned to supervise individual patients, sometimes for eight to twelve hours a day. They provide emotional support and companionship before and after treatment, ensure a patient's safety and provide relief for family members and loved ones, as well as communicate observational summaries to nursing staff. They may also cross-train for administrative duties.
"What the day as a patient sitter brings depends on the child," says Felicia. "Some may be challenging. Others might be quieter or sleepy."
The Patient Sitter role was a first step for Felicia and true to Texas Children's hiring philosophy, Felicia was promoted within a year to a PCA. The transition involved offsite workshops and hands-on learning from other PCAs at Texas Children's designed to ensure our patients receive the most experienced care possible.
Jumping into the Float Pool
Not all, but many of our PCAs and Patient Sitters belong to the Texas Children's float pool. These well-rounded caregivers can go anywhere and frequently float to where there is a need.
"As Float Pool, you get a feel for the different units," Felicia says. She added that she doesn't have a favorite unit but appreciates working in the Pediatric ICU for its many opportunities to learn. In fact, according to Felicia, learning is the best part of her new role as PCA. She is enjoying more responsibility, plus tackling time management while attending to the needs of multiple patients.
The no candidate left behind approach empowers team members like Felicia to explore their passions and expand their careers. If you are looking for a team with opportunities to strengthen your skills and advance, search our open positions, and find the role you can grow in.