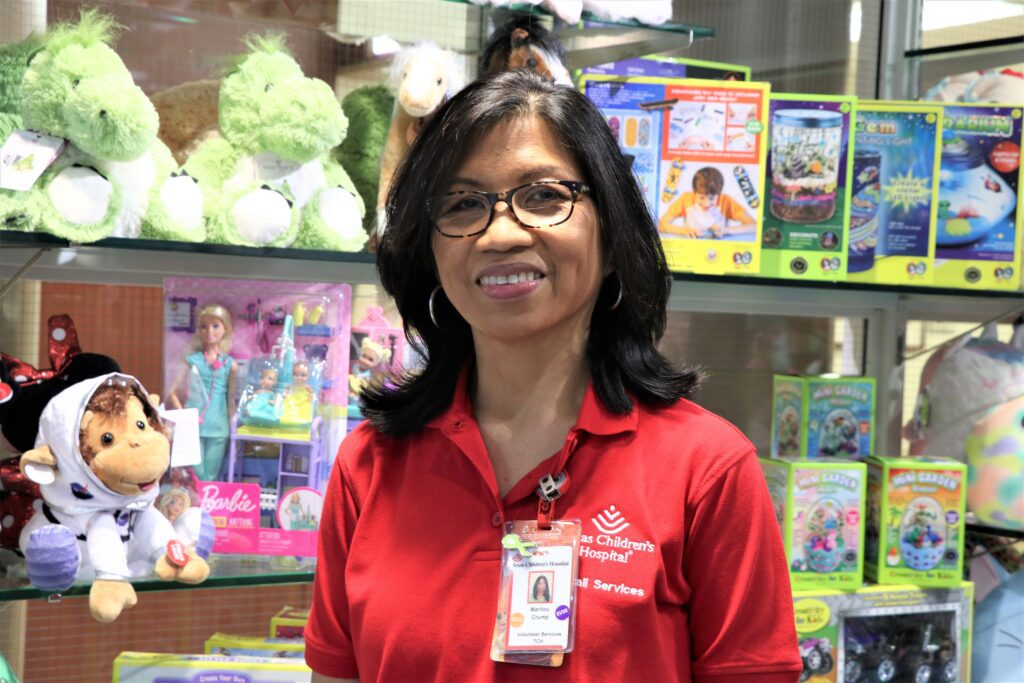 When naming the various careers at a hospital, the most obvious answers like nurse and doctor likely come to mind. However, there are a myriad of roles in the hospital ecosystem and some of them might surprise you. Roles like that of Marilou Crump, a retail sales associate. For nearly nine years, Marilou has been one of the smiling faces of our hospital gift shop, and a shining example of Texas Children's unparalleled customer service. Marilou sits down with us for this week's One Amazing Team Spotlight to share a day in her life.
What do people not realize about your job?
Most people think a retail sales associate is a cashier — ringing up transactions all day. However, the job entails so much more. I create and deliver gift baskets for patients and staff, provide departments with balloon arrangements for events, manage and process orders for the online toy store for patients and for the company store for employees and ensure we have essential items in store in case of a weather event or emergency.
What is your favorite part of the role?
I am a very creative person and enjoy visual merchandising, so my favorite part of the job is bringing the product to life through displays, window designs and improving the store layout.
Of our core values: Embracing Freedom, Leading Tirelessly, Living Compassionately and Amplifying Unity, which one do you most closely identify with? And why?
I identify with Living Compassionately because I've found that by focusing on being considerate of others and serving, you're able to achieve positive results that lend themselves to more freedom, good leadership and lasting relationships.
For the future, Marilou is excited to continue growing in her career at Texas Children's and hopes to move into the administrative side of the retail business to ensure we have the best products possible for our families.
Texas Children's offers a wide variety of roles, all tied around our mission to serve the women and children of our community. If you are interested in a buzzing career in a growing environment, search our open positions and apply today. Who knows? You could be our next One Amazing Team Spotlight! And if you are around one of our many gift shops, pop in and say 'hi' to Marilou and her team.