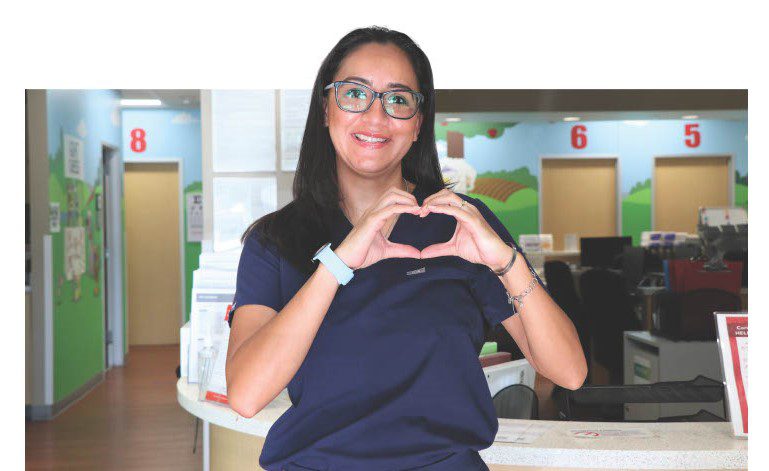 Anyone who has kids knows that they have a hard time being still. Trying to get the correct position for an x-ray can be challenging when working with children. That's where pediatric radiology techs like Jennifer Vaughn come in, earning the trust of her patients with the help of a strong Urgent Care team.
"No matter what department or location you are in; everyone works together as a team in Urgent Care," says Jennifer.
The Lead Radiologic Technologist at Texas Children's West Campus's Urgent Care, Jennifer says patients who come into Urgent Care need more attention than a standard doctor's visit but typically less than an Emergency Room visit.
"This gray area in care is where radiology can shine," Jennifer remarks. "You can learn so much from an x-ray and change outcomes."
Jennifer discovered her passions for radiology and children as a busy teen spending summers volunteering at her local hospital and working at a daycare. A Texas native, Jennifer was already familiar with Texas Children's reputation. When, after 12 years of doing adult radiology, an opportunity opened up at the Texas Children's Pediatrics Ashford office where her children were patients for radiology, Jennifer leapt at the chance to apply.
"The amazing staff there motivated me to follow my dream and pursue a career in pediatric radiology," she explains.
After nine years at Texas Children's Urgent Care, Jennifer is continuing to follow her passions and take the next steps in her career. She will take on a new role as a computer tomography technologist this year.
Radiology is a specialty that makes a powerful impact on patient care and changes lives every day.
"Knowing you are able to help a patient and their family get the answers they need to heal makes it all worth it," says Jennifer.
Learn more about the endless opportunities available in Urgent Care and become part of our One Amazing Team.