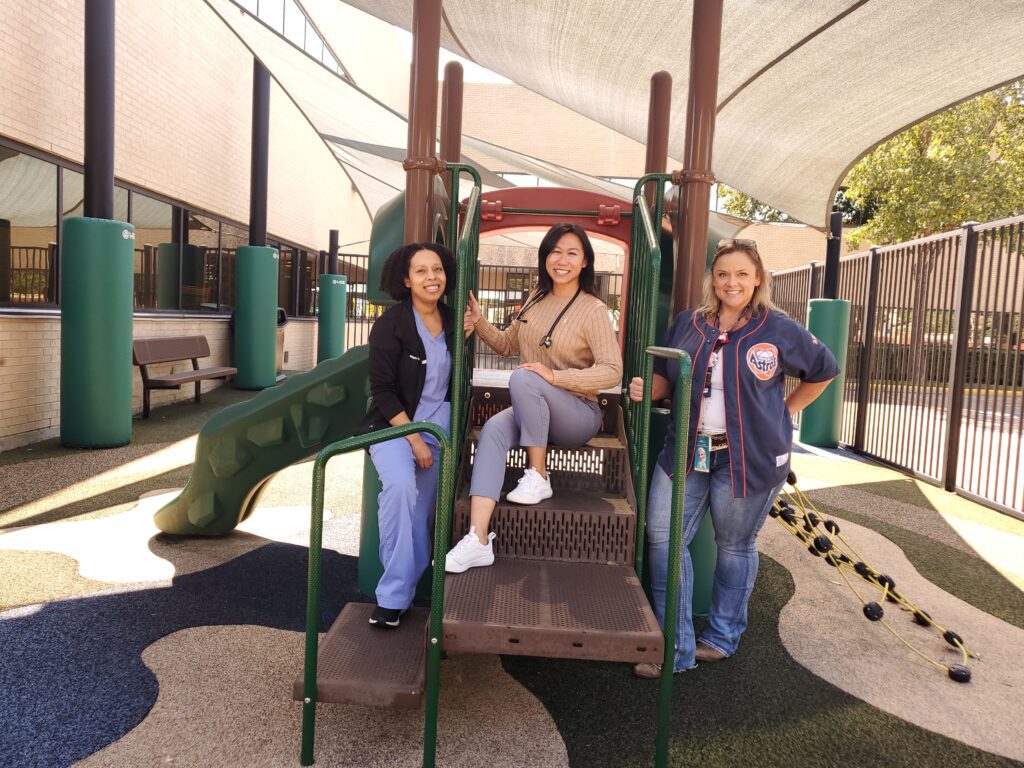 Michelle Yu, MSN, APRN, NP, shares her experiences as a nurse practitioner caring for her patients at the Meyer Center for Developmental Pediatrics and Autism.
Describe the importance of your role.
Thank you for spotlighting my role as a Nurse Practitioner (NP) at the Meyer Center for Developmental Pediatrics and Autism! First, it is important to realize that concerns about development, learning, and behavior are the most prevalent chronic medical problems in pediatrics. Disorders of development and learning are at least 25 times more common than congenital heart disease, and while there are over 2,500 pediatric cardiologists nationally, there are fewer than 750 developmental pediatricians available nationally to evaluate this enormous population of vulnerable children.
In the Houston Metropolitan area alone, there are over 500,000 children with disorders of development, learning, and/or behavior. Given the critical importance of early diagnosis and intervention for children with developmental disorders, combined with the lack of availability of developmental pediatricians to evaluate them, my role at the Meyer Center is directly related to improving access to diagnostic developmental evaluations. My work has focused primarily on providing return visit evaluations and developing evidence-based plans of school and community based services to best serve each child and family as they transition back to their primary care medical homes. Through my provision of return visit evaluations, the developmental pediatricians at the Meyer Center are available to provide more initial diagnostic consultations for more children, thus enhancing access to these most critical initial diagnostic evaluations. I provide care to children and adolescents with a wide range of developmental-behavioral disorders including autism spectrum disorders, intellectual disabilities, learning disorders, and Attention Deficit Hyperactivity Disorder, as well as children with high risk factors for developmental-behavioral disorders, such as prematurity or other neonatal complications, Down syndrome and spina bifida.
How would you describe your journey at Texas Children's?
I started my journey at Texas Children's as a staff nurse in the PICU. My time in the PICU was instrumental in my success as a nurse practitioner today. It is also the first place where I met children with developmental disorders, and I wanted to provide care for them beyond the inpatient setting.
What inspired you to pursue becoming a NP? Which program did you choose?
I wanted to continue caring for children in the community to make an impact through health promotion and disease prevention. After careful research, I decided to pursue my Master of Science in Nursing – Family Nurse Practitioner at the University of Texas Health Science Center – Cizik School of Nursing.
What influenced your decision making process when choosing your NP program?
I chose the Cizik School of Nursing due to their graduate APRN Certification Exam Pass Rates. From 2014 to 2019, Cizik School of Nursing graduates consistently passed AANPCB and ANCC at above 90%.
How have you been supported in your professional growth?
I cannot thank Texas Children's enough for tuition assistance while I was in graduate school. But most importantly, I thank our section chief, Dr. Robert Voigt, for his encouragement and support to continue my pursuit of the Doctor of Nursing Practice Degree. He is a true academician, and I am grateful for his mentorship.
What advice would you give a nurse considering going back to school to become a NP?
My advice for aspiring nurse practitioners is to research a reputable program that will provide hands-on experiences for students, especially during their clinical rotations.
Are you a Nurse Practitioner or an Advanced Practice Provider interested in joining our team? Search our open positions, apply today and take the next step in your career.