What's my motivation? Luisa Steckler's fight for physical therapy patients.
Physical Therapist Luisa Steckler works with "little fighters."
She explains that while her young patients may not be able to do things like sit, stand or talk yet, she knows they are fighting through many frustrations as they get their minds and bodies to work cohesively.
Luisa's success with patients at Texas Children's Specialty Care Cy-Fair relies on discovering what makes them "tick," but she insists she doesn't do it alone. "It takes a village," Luisa explains. In collaboration with the medical team, family and patient, she knows it is important to find the best approach for each individual.
Luisa starts by connecting with her patients. She listens for clues about what's going to motivate them. "I find the one thing that makes them happy," she says, pointing out that even babies will let you know what they do and don't like.
The enduring inspiration of role models
At the age of 15, Luisa's family sent her from Colombia to New York City to help her expand her English skills. As she was getting to know her new school and surroundings, she bonded with a couple in her apartment building who worked in pediatrics. "The husband was a physical therapist and professor at a university. As I showed interest in what he did, he let me follow him at work. It was such a unique opportunity to learn about the profession first-hand."
Luisa's late manager, Nyla Jacob, hired Luisa in 2017 knowing her prior experience in a different hospital environment would bring value to the practice. Together, they formed a partnership with Methodist Willowbrook-NICU III to provide long-term therapy services from infancy. "Comprehensive, excellent patient care was so important to Nyla," Luisa remembers.
Since Nyla's death in 2022, Luisa and her teammates have become closer and stronger as they leverage everything they learned from their leader. "We are determined to carry on Nyla's legacy of providing the best care possible to the families who rely on Texas Children's to make a difference in their kids' lives."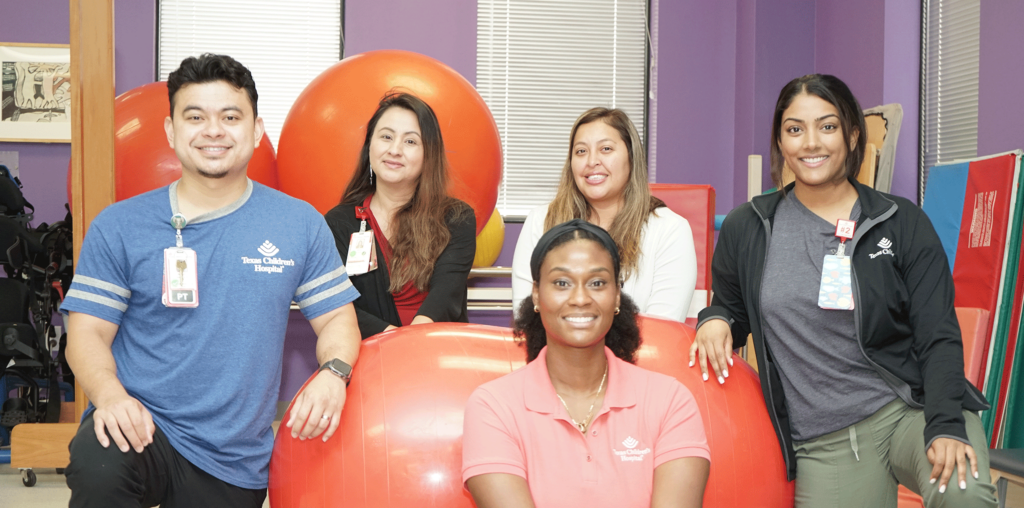 As part of this exceptional team, Luisa works with patients who are at various stages of development and who function at different levels, some challenged with complications stemming from the rarest health issues.
"Some of our patients are diagnosed with illnesses or syndromes that we will see once in a lifetime. I'm proud to work at an institution that has created so many options for treatment and interventions for the many complexities our patients experience."
Taking her dreams to the next level
As she advances her education and career, Luisa's interest in research and the business side of the industry has led her to shift from PhD studies to pursuing an MBA.
"I dream of bridging research with clinical practice and business – it's the perfect trifecta to make an impact in the industry."
Watch a video featuring one of the families deeply affected by Luisa's resolve to help their son through physical therapy.
If you dream of making a difference at the top pediatrics hospital in Texas, search for the role that was made for you at TexasChildrensPeople.org.