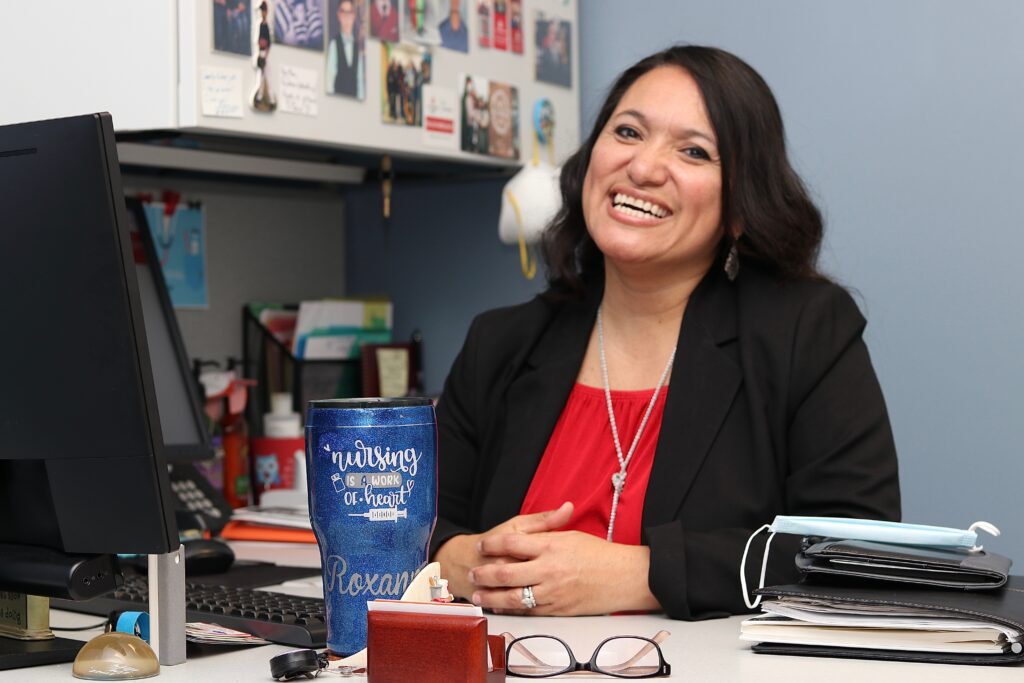 "How is the supply chain issue? I want to hear next steps," says Roxanne Vara as she huddles her team around her on the fifth floor of Texas Children's Hospital The Woodlands, clipboard in hand. After ensuring her team has the support they need, Roxanne walks the halls, directing families and joking with staff before she settles into her office, planning the next huddle for the day.
Roxanne didn't start out as the confident and steadfast leader she is today. Roxanne started off her career at Texas Children's West Tower as a graduate nurse in 2000. From that moment on, she stepped into her clinical rotation, and she knew Texas Children's was where she wanted to grow her career.
"No matter my title at Texas Children's, I have always been in a position to make a difference in the lives of the people I touch, whether that be the patients we serve, their families or my fellow team members," says Roxanne.
Over the next 21 years at Texas Children's, Roxanne evolved and had the opportunity to work at the forefront of Texas Children's expansion into The Woodlands. Now she is poised to be a part of Texas Children's most ambitious expansion yet into central Texas in 2024, as the new director of Patient Care Services for the Austin campus.
Roxanne now sits down to tell us more of her story:
What made you want to go into your field?
Even when I was young, I was always involved in something that involved leading a team. I love to be able to provide service for others. Taking care of people is just in my nature.
What are you most excited for while working in the Austin area?
I am so excited and find it a privilege to be able to spread our services – and Texas Children's culture – to the Austin community. We will have to be innovative and open to change while staying true to the Texas Children's standard of excellence. I have been a part of expansions on existing projects, like here in The Woodlands, but it is so nice to be able to be involved from the beginning of this project. You can really set the tone for success.
What do you think Texas Children's can offer the Austin area?
We have patients and families that travel from all over the US for our services. I hope that we can keep families closer to home and offer them our specialty services for both women and children.
What do you like to do for fun outside of work?
I am a mother of three active teenage boys that play sports. Most of my free time is spent at football and soccer games and tournaments. I'm that loud mom cheering on the sidelines. I am actually the team mom for my son's freshman football team and the team mom for the varsity soccer team as well. Some ask how I do it, but compared to work, organizing school sports is a piece of cake! If I'm not at a game, my next favorite thing to do is be on the lake.
What's next for you?
I have been so lucky to grow at Texas Children's and, once I assist with this expansion in Austin, I hope to help even more. I love our team too much.
Roxanne is a prime example about how where you plant your seed dictates your growth. Through her determination and the support of Texas Children's, there is no stopping Roxanne's potential. If you are ready to unlock your potential, search our open positions and apply today at Texas Children's.