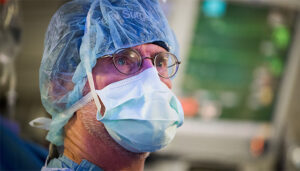 Seven years after performing the world's first successful two-port fetoscopic surgery to treat spina bifida, Texas Children's surgeons have performed the100th surgery of its kind.
Dr. Michael Belfort, OB/GYN-in-chief at Texas Children's Pavilion for Women, and Dr. William Whitehead, a pediatric neurosurgeon at Texas Children's, developed the fetal surgery technique, which presents less risk to the mother and less risk of prematurity to the baby.
The condition occurs when a fetus' neural tube fails to close during the first month of pregnancy, and can cause children to have difficulty walking, to need a shunt to drain cerebral fluid, and more.
"This milestone is very exciting and has been years in the making at Texas Children's," said Belfort, who is also professor and chair of the Department of Obstetrics and Gynecology at Baylor College of Medicine.
"Fetal surgery for spina bifida improves the baby's chances of being able to walk and decreases the need for a shunt to drain fluid from the baby's brain. Our procedure allows the mother the chance of a normal term delivery and reduces her risk of the type of complications that may be seen with the open uterus approach," Belfort said. "We hope that our outcomes will inspire other physicians to use this technique to improve spina bifida care across the world."
Belfort and Whitehead began to develop and practice their method in 2011, before performing the procedure on a patient three years later. At the time, the then-investigational surgery began a research study overseen by the Institutional Review Board at Baylor College of Medicine, the U.S. Food and Drug Administration, a Data Safety Monitoring Board and the Texas Children's Hospital Fetal Therapy Board. Now, the procedure is standard of care for eligible patients at Texas Children's.
"I am so proud of Dr. Belfort, Dr. Whitehead and the entire Texas Children's Fetal Center team for this incredible accomplishment," said President and CEO Mark A. Wallace. "Improving the quality of life for even one mother and child is reason enough to be proud, but 100 successful surgeries truly shows the consistent expertise of our team. Reaching this remarkable milestone is only the beginning, and I know the team will continue to take care of the children and women who need us the most while innovating new lifesaving treatments."
Currently, the typical procedure to treat spina bifida prenatally is an open procedure, where the spine is repaired through a 7 to 10 centimeter opening made in the uterus. Women who undergo this procedure need a preterm cesarean delivery for this and all future pregnancies to avoid uterine rupture.
Instead, Belfort and Whitehead's method allows mothers to deliver around 38 weeks instead of 34 to 35 weeks, and about half have a vaginal delivery.
"The benefits to the mother are what convinced me to be part of this fetoscopic program, and I am even more pleased now to see that the later gestational age at birth also has benefits for the baby," said Whitehead, who is also a professor of neurosurgery at Baylor.
Now, Belfort and Whitehead are training physicians from across the world to perform the procedure.
"There are babies on four continents and more than 12 countries who have benefited from the fetoscopic approach. We hope to continue improving spina bifida outcomes for children and mothers, wherever they may be," Belfort said. "We are looking forward to innovating additional fetal surgeries to address other life-limiting or life-threatening congenital anomalies."
Texas Children's is proud to be the home to so many talented professionals like Dr. Belfort. Are you a leader in your field looking for you next opportunity? Browse our open positions and apply today, and make Texas children's a part of your career journey!