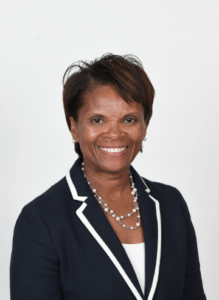 Texas Children's is an amazing organization, and we can proudly say it's our dedicated people who have gotten us to where we are today. Myra Davis, Senior Vice President and Chief Information Officer at Texas Children's, has firsthand knowledge in how our team's efforts of excellence help us succeed. She has been a witness to this for the last 14 years.
Myra's Mission at Texas Children's
Before joining Texas Children's, Myra was consulting and it came to the point where she wanted to get off the road and find new meaning in her career. That's when she applied to Texas Children's and found herself in a director role within Information Services. Today she is proud to be a leader as Senior Vice President and Chief Information Officer at Texas Children's:
"I love the mission of Texas Children's and how we care for children and women. I love what it stands for. When I think about what we do in the context of my role and why I wake up every day, I love that Information Technology, particularly in health care, has the opportunity to enhance and help in multiple ways with how we provide care. I love what we are able to do and the opportunities IT presents to the organization."
 Information Technology at Texas Children's
Myra's goal for the department is to adapt technology in a meaningful way for operational, financial and patient experience purposes. This Texas Children's IT team goal has allowed our entire organization to excel in the technological space.
"We were recently awarded the Most Wired Award and that's an acknowledgement because it makes us stand out among 2100 other hospitals and designates us as a health care organization that leads in technology. We were also  awarded this in 2013, 2014, 2015 and 2017. This couldn't be done without the help from the IT department and many other clinical operational partners we have across our system."
Our achievements as a whole within the Texas Children's organization wouldn't be made possible without our Information Services and Technology Department team.
"I want potential candidates in IT to know working here is more than just an IT job. This is an opportunity to truly be able to provide technology solutions to one of the largest pediatric hospitals in the country and the largest pediatric health plan in the country."
Leading at Texas Children's
At Texas Children's we have the ability to do so much. For leaders like Myra, the opportunities are endless.  All our leaders within the organization are provided everything they need to be successful and push us beyond what we think is achievable.
"What I love about Texas Children's is that we all have a job description. Every leader has a job description, but Texas Children's instills in us an entrepreneurial spirit. This means here at Texas Children's we have the flexibility to do more than we are obligated to do. You will have the opportunity here to bring different ideas to the table and people will listen."
As we continue to expand and achieve excellence, we are continuing to look for new talent to join our team. If you are looking to find meaning in a new career or move into a more fulfilling position, we would love to hear from you today!
Myra Davis was recently awarded and honored in the Houston Business Journal C-Suite Awards 2017 for Outstanding Chief Information or Technology Officer! To learn more about this amazing achievement read the full article here.