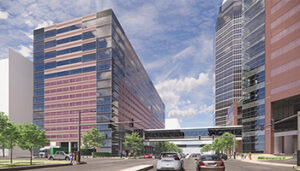 Texas Children's is excited to announce a phased, multi-year expansion plan for the Pavilion for Women that will allow us to continue providing the highest-quality care possible as one of the preeminent women's health care destinations in the country.
"This expansion plan will not only allow us to increase our delivery volume by about 30 percent, but will also allow us have more space for specialized clinics and specific programs that will cater to women at every stage of life," said Dr. Michael Belfort, OB/GYN-in-Chief.
Since its opening in 2012, the Pavilion has consistently fulfilled its vision to deliver exceptional care to mothers and their babies and now exceeded delivery capacity with unmatched clinical outcomes. In addition to Texas Children's Fetal Center – a national leader in the diagnosis and treatment of abnormalities in unborn and newborn infants – the facility is home to a level IV neonatal intensive care unit.
This new expansion includes transforming the former Baylor Clinic at 6620 Main Street in the Medical Center into part of Texas Children's campus and renaming it Main Tower, providing Texas Children's with an additional 190,000 square feet of usable space. There will be three phases of the project, with Phase 1 expected to be completed in spring 2022 and full completion expected in 2024.
"Patients come from all across the country and the globe to access our world-renowned medical experts and the full continuum of care we offer mothers and babies," Belfort said. "We are looking forward to increasing our capacity to offer the best care to every woman and child, from the healthiest to the sickest."
Texas Children's is poised for continued success and you can be part of our next exciting chapter! Search our available positions and submit an application for your chance to join our growing team.