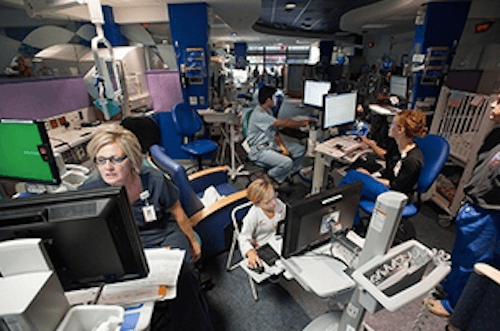 More than 1 million patients are harmed each year in the United States because of medical errors. One of the most common, yet preventable medical errors involves the administration of medication.
Providing medicine to patients is more than just handing out pills or delivering drugs through an IV line. It's a complex, multi-step process that involves meticulously checking and re-verifying that the medicine being prescribed, transcribed, dispensed and administered is going to the right patient every time.
As part of our commitment to patient safety, Texas Children's has already begun implementing Epic Rover, a mobile software application that uses barcode technology designed to prevent medication errors and improve the quality and safety of medication administration.
Epic Rover is an extension of the electronic medication administration record (MAR) within Epic. Once this software is downloaded to an iPod Touch equipped with a scanner or sled, nurses and respiratory therapists scan the barcode on the patient's wristband and the barcode on the prescribed medication at the patient's bedside. The medication documentation then flows real-time into the MAR in Epic.
Bar Code Medication Administration (BCMA) helps our clinical staff verify the administration of medication more efficiently by assuring that the "five rights" are confirmed – right patient, right medication, right dose, right time and right route of administration.
"Medication scanning creates a significantly safer process and improves compliance with industry standards and regulations," said Texas Children's Clinical Informatics Director Jennifer Sanders. "It's a safety measure for our patients and provides an additional safety net for our frontline nurses and clinical staff who are the last line of defense to prevent medication errors."
Before Epic Rover, our nurses and respiratory therapists manually conducted the "five rights" checks. With BCMA, the entire process is done electronically. However, clinical staff must still rely on their critical thinking and judgment to ensure medication ordered by the physician matches the medication prepared and dispensed in the pharmacy before it is administered to the patient.
To help primary users adjust to the BCMA system, the Epic Rover rollout will be implemented in phases over a 9-week period with the completion of the final rollout phase on Saturday, November 21.
Epic Rover rollout schedule:
Dates          Weeks                  Grouping
9/22/15        1 and 2         PFW, Respiratory Therapy
10/6/15        3                   West Campus: 3W, PICU, EC, PACU, 5W/SIU
10/13/15      4                   Main: All EC areas, Floats
10/20/15      5                   9WT, 10WT, 11WT, 12WT, IRU
10/27/15      6                   PRCU, BMT, 14WT
11/3/15        7                   6N, 7N, 7S
11/10/15      8                   NICU 2, NICU 4, PFW NICU
11/17/15      9                   PICU, CVICU, 15WT
Mandatory training will include a Health Stream module, an Epic video and a 90-minute hands-on classroom training session. All staff must complete training before the go-live.
"Our goal is to reach 90 percent compliance in 90 days," said Texas Children's Clinical Informatics Supervisor Erin Davies. "We're confident we will reach this goal because our clinical staff is committed to creating an environment of safe patient care."
The implementation of Epic Rover would not be possible without the collaboration from several departments including Clinical Informatics, Information Services, Pharmacy, Respiratory Care, Nursing and the Nursing Professional Development team who helped create the training curriculum.