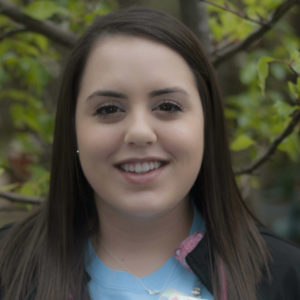 At Texas Children's our nurses inspire. They inspire good health and healing by the work they do and the compassion they carry with them. Some of the patients' and families' lives they touch grow up to be nurses because of the work they do, like Nicole.  Nicole didn't always know she wanted to be a nurse – growing up she had dreams of becoming an elementary school teacher. As a teenager she worked with children as a Nanny – something she could easily see translating into a teacher.  However, her dream changed when her friend with Muscular Dystrophy was being treated at Texas Children's and she had the opportunity to experience the compassion and empathy his nurses exuded.  That experience opened her eyes to the profound impact nurses at Texas Children's have on their patient's lives, even in the worst of times. This altered and re-aligned her path to follow the pursuit of becoming a nurse at Texas Children's Hospital.
When it came time apply for an Internship through her school she (like most of her classmates) selected Texas Children's as her first choice.  Much to her delight she was selected for Texas Children's and was randomly assigned to 14 West Tower- the Pulmonary Unit. It was then that she had her first opportunity to experience what it meant to be a part of the Texas Children's team.  She was assigned to one nurse who would be her preceptor (training nurse) but the whole team was willing to help her- she felt very supported.   
She reveals that the entire staff at Texas Children's had a willingness to show and teach her new things.  Although only one preceptor was assigned to her the whole team was willing to work with her.  The other nurses would seek her out when they had learning opportunities, respiratory therapists were willing to take her under their wing and teach her, PCA's helped her perform tasks.  She quickly found that as long as you are willing to learn at Texas Children's the opportunities are endless.
She considers herself one of the lucky ones. On the last day of her internship she had her interview to be a full time employee for 14 West Tower. A month later he was offered the opportunity to become a part of the Texas Children's team and started soon after as a full-time Graduate Nurse – a place she has been for the past 3 years.  
"These children have put my life in perspective.  At first I was nervous handling sick children.  But they are so resilient, loving, spunky and awesome – even with everything they are going through." Nicole, like many other nurses at Texas Children's form special bonds with their patients through the experiences they share together. They become a part of the healing. Nicole keeps a collection of artwork from all her patients.
As a nurse in the Houston area jobs are a dime a dozen.  But for Nicole, the opportunity to be a part of a family, a member of a team, the opportunity to have the newest technology at your fingertips, the opportunity to grow and develop as a nurse- expanding your education, expanding your professional experience, those are best found at Texas Children's Hospital.
At Texas Children's there are infinite opportunities for professional growth.  In her time at Texas Children's Nicole has witnessed her preceptor from her internship become her Manager, her preceptor from her GN program become a Texas Children's nurse practitioner, and her co-worker become the unit educator.  In her 3 years at Texas Children's, Nicole has seen all this growth and experienced professional development of her own.  Shortly after her 1-year anniversary she became the Chair-Elect of her unit's Quality Practice council, following that she became Chair.  Now she is Chair of the hospital wide Quality Practice Council- spending time working behind the scenes to ensure that Texas Children's patients receive the care they deserve.
Texas Children's isn't just another hospital – it's a home, it's a place for growth, it's a place for professional development, and if your ask Nicole- it's the best place.  "There are a ton of children's hospitals but there is no place like Texas Children's – we as nurses are encouraged to always seek opportunity. They push you to grow and succeed. There is endless opportunity to professional growth and development.  I wouldn't work anywhere else."